The International Society for Trenchless Technology Was formally established in London in September 1996 to advance the science and practice of Trenchless Technology
for the public benefit.
It is particularly concerned with the installation and renovation of
underground utility services (electricity, gas sewerage, telecommunication,
water, etc.) with minimum excavation.
ISTT encourages the establishment of affiliated bodies with similar
objectives world-wide. There are now more than 25 affiliated societies in five continents.

For more information please visit: www.istt.com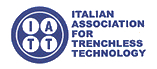 Was established in December 1994 with the following objectives:
- To co-operate with ISTT and other Affiliated Societies to spread NO-DIG Technologies
- To promote education, conferences, training and other activities on Trenchless Technology
- To collect data and documentation on Trenchless activities throughout the world
- To provide information on Trenchless Technology for public authorities.
In 1997 IATT, together with ISTT, organized in Genoa one of the
most successful International No Dig C&E.

For more information please visit: www.iatt.it